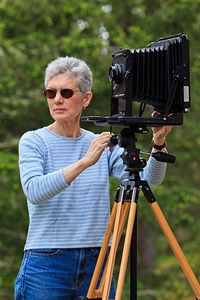 BIOGRAPHY

Susan Huber is a Canadian photographer who travels in the present while keeping an eye on the past. Using a large camera and 19th century processes her work portrays visions of historical relationships between indigenous peoples and European settlers on lands in which they lived. In the present exhibit Susan shows a series of places that are irretrievable changed due to environmental or to human habitation. These places are changed forever but remain in memory due to her photographs taken the past 20 years in Western North America. Many of these places are in remote lands and some are in small population centres.

Mainly self taught, Huber has attended fine art classes with Henry Gilpin, Linda Connor, Mark Klett and Robert Dawson. She taught alternative processes with Jalo Porkkala at Satakunta University in Finland. Inspired by large format photography and 19th century processes in the work of Robert Dawson, Sally Mann and Linda Connor, Huber uses Platinum/Palladium as it evokes depth and warmth, more so than with silver gelatin process. Initially, she gravitated towards silver chloride Printing-Out Papers such as AZO and POP. In 1994, she had camera-maker R.H. Phillips construct a large format camera which remains her primary camera to this day.

A collaboration with renowned California photographer Robert Dawson provided the groundwork for a lifelong involvement with traditional and alternative processes with a view towards documentary projects. With Dawson, Huber was part of a group who documented Mono Lake, then under threat by the Los Angeles Power Authority: the lake was later protected by the Supreme Court based on public outcry following the exhibit. Thus she discovered the power of documentary fine art photography, and inspired the creation of the "Creekside" series which was used to secure the protection of a rare temperate old growth rainforest in her Salt Spring Island home.

Her work can be found in private collections in Europe, North America, South America and Russia.