Photosynthesis 2018 Exhibition
Photosynthesis 2018


August 22 - September 4

10am to 4pm daily

ArtSpring Gallery
100 Jackson Avenue
Salt Spring Island, V8K 2V8 Canada "

For the 18th consecutive year, the Photosynthesis show will provide Salt Spring Island with a look at what some of our top photographic talents are producing.

Photosynthesis is a group of accomplished Salt Spring Island photographers founded in 1995. Membership has fluctuated over the years but it currently comprises 16 photographers, chosen for the quality and originality of their work.

This year, twenty-one photographers will fill the walls of the ArtSpring Gallery. Four new photographers have been invited to participate in the show. The group has also selected and sponsored a student photographer from GISS.

Participants in Photosynthesis 2018 include Alane Lalonde, Shari Macdonald, Christina Heinemann, Diana Hayes, Brigit Freybe Bateman, Michael Wall, Avril Kirby, Bernadette Merten-MacAllister, Amy Melious, Larry Melious, Pierre Mineau, Juliana Slomka, Timmy Gibbons, Judy McPhee, Jana Zachariou, and Sam Lightman. Four new guest photographers are Susan Huber, Doug McMillin, Wendy Rosier and Devin Sivyer with guest student, Alexander Ross-Collins from GISS.
---
"The Sacred" Group show at LightBox Photographic Gallery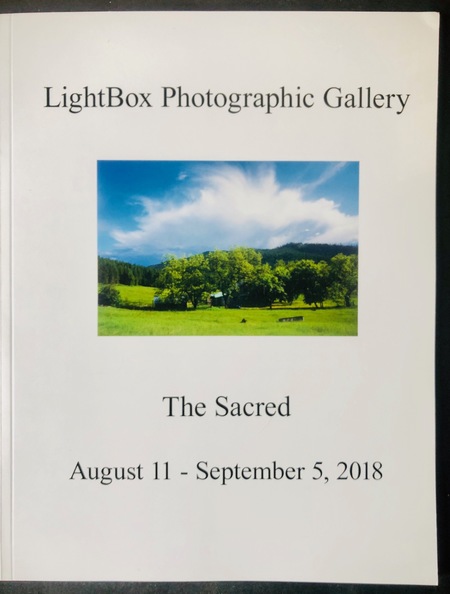 "The Sacred"
Group show at LightBox Photographic Gallery

The Sacred
August 11th – September 5th, 2018
Artists' Reception: Saturday, August 11th, 5-8pm
LightBox Photographic Gallery
1045 Marine Dr.
Astoria, OR 97103
(503) 468-0238
lightbox-photographic.com

LightBox Photographic Gallery will host the artists' opening reception for "The Sacred" on Saturday, August 11th, from 5-8 pm. "The Sacred" is a juried exhibit that attracted submissions by more than 165 photographers from around the world. Fifty-two photographers were selected by the juror, world renown photographer Robert Adams, of Astoria.

Congratulations to the Photographers of The Sacred
Yuri Ozaki • Lucas DeShazer • Christoph Kapeller • Nancy Abens
Kidus T. Tesfaye • Michael Kirchoff • Charlotte Watts • Ronald Butler
Nikolaj Callesen • Tomomi Tamura • Kerry Davis • Pam Golden
Friderike Heuer • Stuart Allen Levy • Don Norris • John Eaton
Jan Becket • Ken Hochfeld • Jim Fitzgerald • Kent Krugh
Jeno Lehel • Ed Greenly • M.C. Reardon • Tom Caples
Jason Guffey • Phil Coleman • Heather Binns • Rich Rollins
Barbara Rothman • Steve Delph • J.P. Terlizzi • Joseph Deiss
Herman Krieger • Dennis Witner •Diana Welch • Susan Huber
Jordan VanSise • Kier Selinsky • David Rowe • Jody Miller
Calvin Chen • Walt O'Brien • Eric Lundgard • Pete Karnig
Michael Elenko • George Johnson • Deborah Jaques • Isaac Sachs
Stewart Harvey • Mason Hiatt • Bob Gervais • Paul Cunningham

"The photographer Dorothea Lange said that she wanted to make pictures that are "second lookers" – pictures that reward repeated viewings. It has been my privilege to assemble an exhibition made up of such photographs. The pictures record what is "entitled to reverence," as the dictionary defines the word "sacred" – times and places and people that point beyond themselves. We stand today in particular need of such testaments. I was asked to select a few of the photographs for "honorable mention," but this seems unnecessary. As is apparent, the photographers brought honor to themselves by first selflessly honoring their subjects."
~ Robert Adams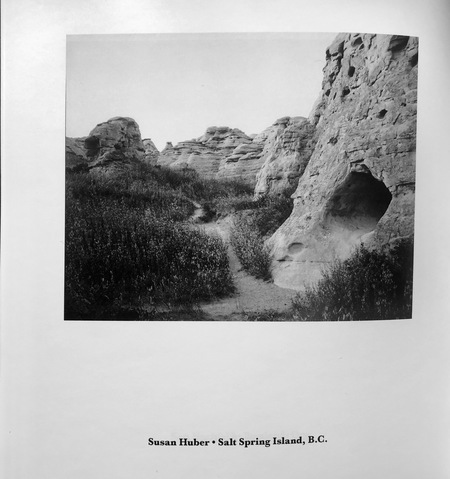 ---
Sacred
Press Release


Photographer Susan Huber has just won a prestigious place in a U.S. exhibition taking place this week in Oregon. Huber is known as a alternative process photographer whose work won Best Local Artist in the 2015 Salt Spring National Art Prize.
Huber's large format platinum/palladium image of 'Fasting Hole, Vision Quest' was one of the 900 entrants and images selected with a final selection of 52 artists to take place in Light Box Gallery August 11- 22. It was curated by the esteemed American photographer, Robert Adams noted for his essays on the American West with poignant images of land use.

The exhibition is named " Sacred." It is an exhibition dedicated to record what is "entitled to reverence" and; as Robert mentions," these are times, places and, of people who project beyond themselves, indicating the need of testaments of reverence in a world that celebrates mediocracy and quick mindless diversions."

The photograph was taken on one of Huber's art roadtrips. She heads off to forgotten places in her VW camper van equipped with large and medium format analogue film cameras and a discerning eye. Her winning image was taken in the area in the Blackfoot Confederacy tribal lands situated in Writing-On-Stone Provincial Park near Milk River, Alberta. This is also the site of the largest collection of indigenous pictographs in North America and thus has been protected as a park.

To capture the image, Huber used a large format ( 8 by 10 inch) camera resulting in a negative and contact printed the negative onto paper coated with platinum/ palladium. The process can only be exposed via Ultraviolet light and reveals subtle tones rarely seen in other photographic processes.

To add a layer of poignancy to an already unique image, a catastrophic flood wiped out the area several years ago and it is no longer possible to photograph the sacred fasting hole from that angle.

Susan has been photographing in the Prairies since the late 1980s and was honoured with winning a BC Arts Council Grant to depict the disappearing churches in British Columbia and Alberta in 2006. The series is titled, 'Here We Pray' and is featured on her website, www.susanhuber.com

---
Eleven Exchanges: | Edited by J. Alan Constant
Featured in:
Eleven Exchanges: | Edited by J. Alan Constant | Arts & Photography
Revisted, The current work of nine photographers who met in a Monterey, CA photography class in 1979. February 18, 2018
Click here to preview and order.
---
Texas Photographic Society 26th Annual Membership Exhibition, San Antonio, Texas
Away Way Off Arles Get-Together July 2013
A vision by Duane Prentice, "Les Rencontres d'Arles is a fantastic annual photo-fest held annually in Provence in the south of France and showcases great photography. Held at the same time is Off Arles, a group of photographers and galleries who for various reasons don't participate in the main Arles event. And I felt it was time to celebrate our own work and share with photographers and lovers of photography an afternoon of seeing our work in a relaxed informal setting in a quiet garden with drinks, food and great people."
- Duane Prentice

My entry...Bison Project: a photographic journey to the Canadian Prairies, (Alberta and Saskatchewan), in search of Bison and their historic relationships to land and documenting their current status using three different alternative photographic processes of Wet Plate Colloidion, Daguerreotypes and analog film in MF and LF formats. The blog to see the progress and comments of the two partners; Jalo Porkkala (Finland) and Susan Huber (Canada) in this venture is aptly named, ' www.photobison.wordpress.com '. This is a FINN/ Can production...the first of its kind..to further our northern partnership to make the very best emotional images possible.