Press - 'At the Griffin: 'Shootapalooza,' 'hairportraits,' and going to the Mardi Gras'
2022.9.15
The Tent Platinum/Palladium on watercolour paper, 8x10 inches
My work was included in the Photography Review, of the show at the Griffin Museum, on September 15 in the Globe.
There are several photographic processes employed: cyanotype, gum bichromate, platinum/palladium. Susan Huber's "The Tent" uses the characteristic softness of platinum/palladium to understatedly spooky effect. Softness of focus recurs throughout the show, another aspect of interiority. Inner visions are so rarely precise and crisp.
Lovely quote, and see the whole article at the following link:
"Work of Merit" at the 2022 Denis Roussel Awards
2022.8.22
"The Denis Roussel Award was started in 2018 to honor the legacy of photographer and educator Denis Roussel and to highlight work done by photographers whose work is based on the historical/alternative photographic processes, including silver gelatin.
We would like to thank juror, author, and educator Christopher James who spent long hours reviewing the submissions. We know of no other competition where the photographers who enter are given care and handling in the way their work receives personal comments from the juror with observations and recommendations for future work."
Very strong images and an excellent example of how powerful the VDB-cyan combination, with other integrated media, can be as a vehicle for photograms. I was especially intrigued with the weeks of exposure and where you allowed the plant matter, and its moisture, to collaborate with you in making the final image. I especially like the lilies and asparagus. Nice work and very much in the spirit of Denis Roussel.
- Christopher James, Juror

Thank you Bostick and Sullivan...
2022.2.16
...for the shout-out in your last newsletter!!
Salton Sea Palm makes an appearance in Issue 35 of The Hand magazine. Out January 10!
Press release:
We are excited to announce the featured and contributing artists for Issue 35! Annette Golaz is an artist and author of, Cyanotype Toning: Using Botanicals to Tone Blueprints Naturally, available from Routledge Books. We talk to her about what motivated her to create her fabulous book and where she gets inspiration for her dreamy photographs. Laurent Millet is a photographer based in La Rochelle, France. We talk to him about the concepts of play and experimentation in his work, as well as new directions he is moving in. Sean Starwars is a printmaker based in Louisiana. A member of the Outlaw Printmakers group, Sean's work has appeared in books and on skateboards, as well as his highly sought-after hand-printed shirts. We talk to Sean about his inspiration from the skateboarding world and what it's like to hang out in the studio and print with him.
In addition to these featured interviews, issue 35 also includes about 70 other artists from all over the world. They are a diverse and eclectic group of artists representing some of the best contemporary printmaking and photography around the globe.

Happy to announce some prints received a 2021 Honourable Mention at the PX3 Prix de Paris Awards in France - in the "Special" Category for for Plants Have Lives Too.
Exhibition - The Contemporary Landscape '21
2021.9.13
The Contemporary Landscape '21

Juror William Neill
116 East Broad Street, Greenville, SC, 29601, United States
11/5 - 11/27/21
The landscape, whether grand or personal, has been a subject of photography since the beginning and played an important role in establishing photography as a fine art medium. Early on, both in history and most photographers experience, the landscape was one of most accessible and familiar subjects available.
Our juror for the Contemporary Landscape, William Neill, has made his selections and the following photographers have been invited to participate in The Contemporary Landscape:
Warren Agee, Jacqueline Asplundh, Bonnie Bishop, Dave Burwell, Julia Buteux, Saikat Chakraborty, Julianne Clark, Mark Collins, Marianne Smith Dalton, Lee Day, Beth Delagi, Carol Eisenberg, Susan Elliott, Yiannis Galanopoulos, Mark Geistweite, Lindsay Godin, Rena Goodfriend-Leve, Veronica Gray, Jeff Greene, Jerry Greer, Andrew Hoff, Art Holeman, Susan Huber, Mark Indig, Becky Jaffe, Walter Jakubowski, John Kosmer, Matthew Lancaster, Virginia Lockman, Jim Magruder, Paul Murray, Kat Moser, Jerry Park, Thomas Pickarski, Bill Richards, Gary Ricketts, Elizabeth Sanjuan, Elliot Schildkrout, Dennis Segers, Kerry Sharkey-Miller, and Einat Shteckler
- release, Southest Center for Photography

Exhibition - The Fantastic Film Show 2021
2021.5.25
Very pleased to announce I am in the LightBox Photographic Gallery exhibition of The Fantastic Film Show 2021 in Astoria, Oregon June 7 to July 12.
For many years LightBox has featured film work in our infamous Plastic Fantastic Show and the current more inclusive and evolved Fantastic Film Show. This group show celebrates the love LightBox has for photographic images made with film from any and all types of cameras. LightBox will consider images shot using film only with the use of any film camera ever made, from large format and fine cameras to any and all plastic, pinhole, box or homemade cameras. Any analog image that is shot with film is considered, even plates and handmade emulsions are included.
- LightBox Gallery

Exhibition - A Certain Kind of Blue
2021.3.13
March 2021
Analog Forever Magazine
"Analog Forever Magazine is pleased to showcase 81 images in this month's online exhibition, entitled "A Certain Kind of Blue." Curated by photographic artist and Assistant Professor in Photography at the University of Tampa, Jaime Aelavanthara, these cyanotype process photographs showcase the diverse range of expressive possibilities within this celebrated historic method. While the cyanotype process is hailed for its simplicity, it is also extraordinarily complex. The selected photographers collaged, toned, stitched, assembled with this process to create both two-dimensional and three-dimensional photographs that push creative boundaries to enhance the emotional quality of their art."
Dahlia No. 1
Three-day cyanotype exposure
Published - Photographic Alternative Processes
2020.4.3
Second edition! Apparently this book is doing well and I'm very pleased to be included among the featured artists with the Grape Leaves cyanotype print.
Jill Enfield's Guide to Photographic Alternative Processes, 2nd edition, is packed with stunning imagery, how-to recipes, techniques and historical information for emulating the ethereal, dream-like feel of alternative processing.
Read more about the book on Jill's site.

And you can purchase the book here.
Grape Leaves No. 2
Cyanotype, Revere paper
10x8 inches
Alt 2020 at the Southest Center for Photography
2020.2.26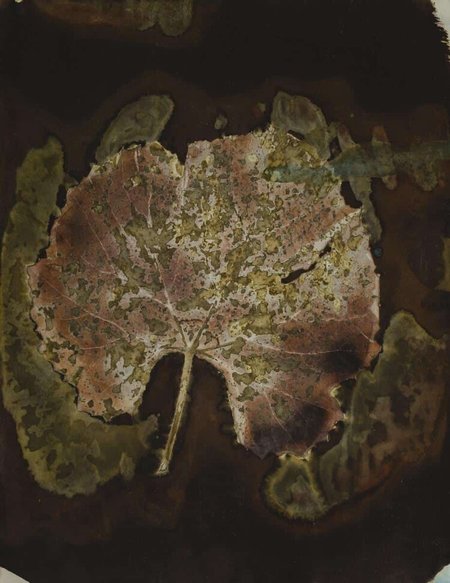 New work appears in the group exhibition Alt 2020 at the Southeast Center for Photography, 116 E Broad St in Greenville, South Carolina
Photosynthesis 2018 Exhibition
2018.9.4
Photosynthesis 2018

August 22 - September 4
10am to 4pm daily
ArtSpring Gallery
100 Jackson Avenue
Salt Spring Island, V8K 2V8 Canada "
For the 18th consecutive year, the Photosynthesis show will provide Salt Spring Island with a look at what some of our top photographic talents are producing.
Photosynthesis
is a group of accomplished Salt Spring Island photographers founded in 1995. Membership has fluctuated over the years but it currently comprises 16 photographers, chosen for the quality and originality of their work.
This year, twenty-one photographers will fill the walls of the ArtSpring Gallery. Four new photographers have been invited to participate in the show. The group has also selected and sponsored a student photographer from GISS.
Participants in Photosynthesis 2018 include Alane Lalonde, Shari Macdonald, Christina Heinemann, Diana Hayes, Brigit Freybe Bateman, Michael Wall, Avril Kirby, Bernadette Merten-MacAllister, Amy Melious, Larry Melious, Pierre Mineau, Juliana Slomka, Timmy Gibbons, Judy McPhee, Jana Zachariou, and Sam Lightman. Four new guest photographers are Susan Huber, Doug McMillin, Wendy Rosier and Devin Sivyer with guest student, Alexander Ross-Collins from GISS.
"The Sacred" Group show at LightBox Photographic Gallery
2018.9.4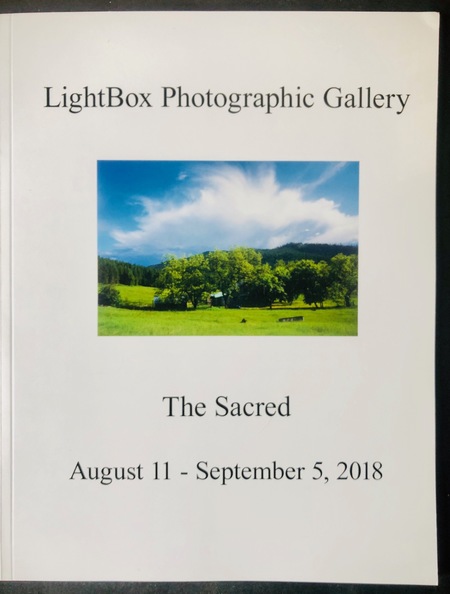 "The Sacred"
Group show at LightBox Photographic Gallery

The Sacred
August 11th – September 5th, 2018
Artists' Reception: Saturday, August 11th, 5-8pm
LightBox Photographic Gallery
1045 Marine Dr.
Astoria, OR 97103
(503) 468-0238
lightbox-photographic.com

LightBox Photographic Gallery will host the artists' opening reception for "The Sacred" on Saturday, August 11th, from 5-8 pm. "The Sacred" is a juried exhibit that attracted submissions by more than 165 photographers from around the world. Fifty-two photographers were selected by the juror, world renown photographer Robert Adams, of Astoria.

Congratulations to the Photographers of The Sacred
Yuri Ozaki • Lucas DeShazer • Christoph Kapeller • Nancy Abens
Kidus T. Tesfaye • Michael Kirchoff • Charlotte Watts • Ronald Butler
Nikolaj Callesen • Tomomi Tamura • Kerry Davis • Pam Golden
Friderike Heuer • Stuart Allen Levy • Don Norris • John Eaton
Jan Becket • Ken Hochfeld • Jim Fitzgerald • Kent Krugh
Jeno Lehel • Ed Greenly • M.C. Reardon • Tom Caples
Jason Guffey • Phil Coleman • Heather Binns • Rich Rollins
Barbara Rothman • Steve Delph • J.P. Terlizzi • Joseph Deiss
Herman Krieger • Dennis Witner •Diana Welch • Susan Huber
Jordan VanSise • Kier Selinsky • David Rowe • Jody Miller
Calvin Chen • Walt O'Brien • Eric Lundgard • Pete Karnig
Michael Elenko • George Johnson • Deborah Jaques • Isaac Sachs
Stewart Harvey • Mason Hiatt • Bob Gervais • Paul Cunningham

"The photographer Dorothea Lange said that she wanted to make pictures that are "second lookers" – pictures that reward repeated viewings. It has been my privilege to assemble an exhibition made up of such photographs. The pictures record what is "entitled to reverence," as the dictionary defines the word "sacred" – times and places and people that point beyond themselves. We stand today in particular need of such testaments. I was asked to select a few of the photographs for "honorable mention," but this seems unnecessary. As is apparent, the photographers brought honor to themselves by first selflessly honoring their subjects."
~ Robert Adams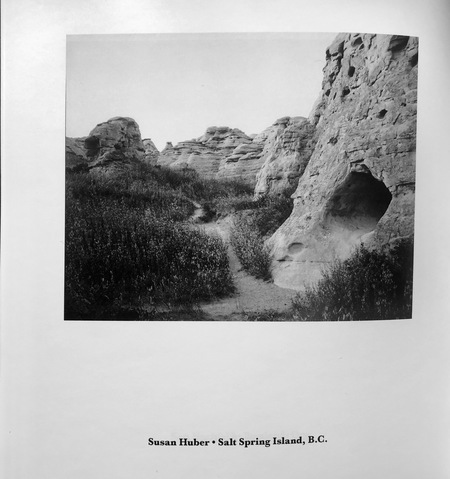 Press Release


Photographer Susan Huber has just won a prestigious place in a U.S. exhibition taking place this week in Oregon. Huber is known as a alternative process photographer whose work won Best Local Artist in the 2015 Salt Spring National Art Prize.
Huber's large format platinum/palladium image of 'Fasting Hole, Vision Quest' was one of the 900 entrants and images selected with a final selection of 52 artists to take place in Light Box Gallery August 11- 22. It was curated by the esteemed American photographer, Robert Adams noted for his essays on the American West with poignant images of land use.

The exhibition is named " Sacred." It is an exhibition dedicated to record what is "entitled to reverence" and; as Robert mentions," these are times, places and, of people who project beyond themselves, indicating the need of testaments of reverence in a world that celebrates mediocracy and quick mindless diversions."

The photograph was taken on one of Huber's art roadtrips. She heads off to forgotten places in her VW camper van equipped with large and medium format analogue film cameras and a discerning eye. Her winning image was taken in the area in the Blackfoot Confederacy tribal lands situated in Writing-On-Stone Provincial Park near Milk River, Alberta. This is also the site of the largest collection of indigenous pictographs in North America and thus has been protected as a park.

To capture the image, Huber used a large format ( 8 by 10 inch) camera resulting in a negative and contact printed the negative onto paper coated with platinum/ palladium. The process can only be exposed via Ultraviolet light and reveals subtle tones rarely seen in other photographic processes.

To add a layer of poignancy to an already unique image, a catastrophic flood wiped out the area several years ago and it is no longer possible to photograph the sacred fasting hole from that angle.

Susan has been photographing in the Prairies since the late 1980s and was honoured with winning a BC Arts Council Grant to depict the disappearing churches in British Columbia and Alberta in 2006. The series is titled, 'Here We Pray' and is featured on her website, www.susanhuber.com

Eleven Exchanges: | Edited by J. Alan Constant
2018.8.1
Featured in:
Eleven Exchanges: | Edited by J. Alan Constant | Arts & Photography
Revisted, The current work of nine photographers who met in a Monterey, CA photography class in 1979. February 18, 2018
Click here to preview and order.
Alternative Photography: Art and Artists
2018.7.31
ANNOUNCEMENT:
Lulu Press introduces new paperback version of Alternative Photography: Art and Artists which highlights the work of over 100 of today's most active photographers, including Susan Huber, that are working with alternative processes.
Featured in Gulf Islands Driftwood
2018.7.31
Gulf Islands Driftwood: "Huber shares large-format passion" by Sean McIntyre, February 20, 2013
Texas Photographic Society 26th Annual Membership Exhibition, San Antonio, Texas
2018.7.31
Away Way Off Arles Get-Together July 2013
A vision by Duane Prentice, "Les Rencontres d'Arles is a fantastic annual photo-fest held annually in Provence in the south of France and showcases great photography. Held at the same time is Off Arles, a group of photographers and galleries who for various reasons don't participate in the main Arles event. And I felt it was time to celebrate our own work and share with photographers and lovers of photography an afternoon of seeing our work in a relaxed informal setting in a quiet garden with drinks, food and great people."
- Duane Prentice

My entry...Bison Project: a photographic journey to the Canadian Prairies, (Alberta and Saskatchewan), in search of Bison and their historic relationships to land and documenting their current status using three different alternative photographic processes of Wet Plate Colloidion, Daguerreotypes and analog film in MF and LF formats. The blog to see the progress and comments of the two partners; Jalo Porkkala (Finland) and Susan Huber (Canada) in this venture is aptly named, ' www.photobison.wordpress.com '. This is a FINN/ Can production...the first of its kind..to further our northern partnership to make the very best emotional images possible.
Featured in High and Dry VIII Juried Competition, Texas
2018.7.30
Release:

Photographer Susan Huber's 'Grama Grasses' featured in the well regarded High and Dry VIII Juried Competition, International Cultural Center, Texas Tech University, Lubbock, TX.

'Grama Grasses', by photographer Susan Huber, recent winner of two awards from the 2008 Prix de la Photographie in Paris, France for; 'My Land, My Home' and; 'Here We Pray' has won a spot in the High and Dry VIII juried competition at the International Cultural Center, held from December 5 to January 16, 2009.

High and Dry VIII is the eighth annual juried photographic exhibition of lands and peoples' relationships to the world's arid lands. This year's juror is D. Clarke Evans, director of the Texas Photographic Society based in San Antonio, TX.

The competition has attracted 150 photographers and over 590 prints.

'Grama Grasses' was photographed in Dinosaur Provincial Park, Brooks, Alberta, Canada in late spring. It was an unusually wet winter and the grasses had enough water to take up residence in a small area at the base of the Badlands where duck billed dinosaurs once roamed 75 millions ago.

Susan creates large format contact prints on printing- Out Paper (P.O.P). 'Grama Grasses' is also on P.O.P with a gold chloride toner added to maintain archival stability and colour.

Susan loves to photograph subtle lands, which she calls 'Quiet Lands', like the prairie landscapes where Grama Grasses grow, well-suited to a climate of strong winds, hot summers and drought like conditions. Susan's current project , 'The Only Things Left Standing', explores lands handed down through pioneer families based on her island, Salt Spring Island, B.C.. This project is featured in Dales Gallery, Victoria B.C. November 27 to December 24, 2008. Dales Gallery can be contacted at: www.DalesGallery.com.

Susan has exhibited in Australia, Europe and North America. Current projects, including 'Private Lands', are featured on her website, www.susanhuber.com and she can be contacted at: info@susanhuber.com.
HONOURABLE MENTIONS, PRIX DE LA PHOTOGRAPHIE IN PARIS
2018.7.29
Release:

Photographer Susan Huber has won two awards, both Honourable Mentions in the 2008 Px3 Prix de la Photographie in Paris, in the Fine Art Architecture category for her 'Here We Pray' series of photographs of rural Western Canadian churches and in the Fine Art Landscape category for her most recent series of foot journeys throughout Salt Spring Island titled 'My Land, My Home'.

The Prix de Photographie is an international competition which promotes the appreciation of photography, discovers emerging talent, and introduces photographers from around the world to the artistic community of Paris. Winning photographs will be exhibited in Paris and will be published in the Px3 Annual Book.

The 2008 Px3 jurors included judges from the Library of Congress, U.S.A., Corriere della Sera, Italy, Time Magazine, The Book LA, Grazia Magazine, U.K., several Galleries in Paris, FR and Magnum, Paris, FR.

Susan's 'Here We Pray' series was funded in part by a 2006 Project Assistance Grant from the British Columbia Arts Council, one of the 16 awarded each year. More of Susan's photographs of rural churches, an ongoing project, will be exhibited this year in Victoria, B.C. "My Land, My Home' was viewed favourably by Stephen Bulger Gallery in Toronto, ON and by Kathleen Ewing Gallery in Washington, DC last year. It is also an ongoing project, reflecting encroaching urbanism on primarily rural Salt Spring Island, where Susan resides. She will exhibit this series in Dales Gallery, Victoria, BC this year.

Susan is known for her large format contact printing on Printing-Out Paper, employing 19th century photography and processing techniques,which give an extraordinary wealth of tones and clarity to her photographs of disappearing Orthodox churches of Alberta and B.C. and the 'Quiet Lands', underappreciated subtle lands surrounding developing communities.

Susan has exhibited recently in the Carrier Gallery in Toronto, ON, ViewPoint Gallery, Sacto, CA, and the Point Light Gallery in Surry Hills , Australia. She has been a photographer since the age of eleven, Susan lives on Salt Spring Island, B.C. To see her photographs, or to contact Susan, visit her website: www.susanhuber.com.
HERE WE PRAY: Rural churches of Alberta and British Columbia Photo Project
2018.7.28
Utilizing funds from the Project Assistance Grant, I traveled 18,000 kms in 2006 and 2007 to document the rural (primarily Orthodox) churches. Some of these churches are already being renovated for their 100th anniversaries, such as the Holy Trinity in Smoky Lake (2009) and St. Henry's in Hill Springs (2007). Many are being renovated by grassroots organizations, most notably the Dorothy Historical Society in Dorothy, Alberta. Many of these community associations, like the Dorothy Historical Society, are made up of the farmers in the area. Farmers as old as ninety-two years of age are proud to offer their time, general building skills, and limited funds to keep the churches from being abandoned. The associations realize that the government will not provide the funds needed in time to prevent further deterioration.
The weather in 2006 and 2007 demonstrated an extreme range of heat and humidity, with temperatures in excess of 42 degree celsius and humidity of 70-80%. This was unusual, and made working with two view cameras of 8 by 10 inch and 4 by 5 inch size difficult. I attempted to use the 4 by 5 inch camera using Polaroid instant film (negative- positive, Type 55 and the positive 54) and found the heat made the emulsion of the Polaroid film too soft to work with. I also learned that the Polaroid film for the 8 by 10 inch camera was difficult to acquire and the processors for field work needed consistent power. The hand cranked processors tended to provide inconsistent results.

In British Columbia, I found flooding in the northern churches and communities, due to late snowpack melting. I hope to re-visit and document that area at a later time.

My original intent was to hand over my Polaroid prints to the farming communities. This proved difficult, as most of the people were out in the fields and/or the caretakers were not present on the grounds except when doing maintenance. Many of the churches do not have regular Sunday services and some only have an annual service. I was able to find some of the caretakers when they observed me photographing the churches. I was welcomed graciously into their communities when I explained my purpose. I have since sent some of those communities a print of my Printing-Out Paper contact prints.

Prairie grain elevators have already disappeared, and so have some of our rural churches. On the whole, churches, no matter the denomination, will continue to be the spiritual refuge for the descendants of the original settlers of Russian, Ukrainian, Greek, Romanian, Scandinavian and First Nations origins. So my short term goal is to contact the non-profit church associations/organizations with a view toward exhibiting my photographs of their magnificent yet humble structures. I believe such exhibitions would educate the public as to church locations and encourage tourism, which in turn may help generate funds to help continue maintenance. As well, I firmly believe we need to help younger generations become more interested in the history and architecture of their communities, and such a process would be a first step.

My long term goal is creation of a book portraying these rural churches, with maps and possibly music, which will also encourage families and travellers to explore the churches and the lands surrounding them. Besides stimulating a greater awareness of these fine structures, such a book will also help generate tourist dollars to enable church preservation. A copy of the book should be placed in central locations for public viewing. In Alberta, such a location would be the city of Mundare in Lamont County, where Orthodox worship is centered.

I want to thank the British Columbia Arts Council for providing me with the opportunity to document these disappearing rural churches. The funding has strengthened my purpose- to continue my photographic journeys towards spearheading preservation of a portion of Canadian history which is slowly being erased due to lack of funds and an aging population unable to maintain a great part of their history.
THE ROAD TO VANTAGE, High and Dry 2007 Photographic Exhibition Award Winner
2018.7.27
Photographer Susan Huber, known for her stunning portrayals of North America's Quiet Lands, has been awarded an Honourable Mention for her photograph THE ROAD TO VANTAGE, entered in the 2007 "High and Dry" exhibition, sponsored by Texas Tech University in Lubbock Texas. "High and Dry 2007" is the seventh annual juried photographic exhibition of landscape and peoples of the world's dry lands . This year's juror was Sante Fe photographer Norman Mauskopf, and the exhibition features 80 images from Canadian and American photographers. Huber's prize winning photograph, THE ROAD TO VANTAGE, depicts an old trade route situated near the bridge over the Colmbia River and Gorge in Washington State, U. S. A. On a road trip with a friend, Huber was attracted to the old road , with its' quality of being suspended in time. With busy traffic wending its' way between Washington and Oregon over the bridge, the old road seemed to go nowhere, the tracks stopped dead, with the river and the bridge in the background.

Huber creates unique, large-format contact prints, like THE ROAD TO VANTAGE, to show us the lands and structures we are losing in our increasingly urbanized culture. Her photographs of prairies and Russo-Ukrainian churches, badlands, oceans, lakes, and rainforests have been displayed in international exhibitions and galleries such as the Joseph D. Carrier Gallery in Toronto, Ontario, Peter Whyte Gallery in Banff, Alberta, and the Point Light Gallery, Surry Hills (Sydney) Australia. A photographer since the age of eleven, Huber lives on Salt Spring Island , British Columbia, Canada. To see her photographs, or to contact Susan, visit her website : www.susanhuber.com.

"Norman projected your image during his talk and said that he really really liked it. As I recall, he said that the tire tracks leading to nowhere (or nowhere that the viewer can see, anyway) seemed both mysterious and ominous--creating tension and interest. He thought it was an elegant composition. Everyone agreed." ~ Jane Bell, Director of the International Cultural Center, Texas Tech University, Lubbock, TX.
News from Contact Printers Guild
2018.7.26
Photographers' Outings - Susan Huber

As announced in a past newsletter, Guild member Susan Huber was chosen for a photo project on rural churches of the Canadian provinces of Alberta and British Columbia. Following is a narrative on her experiences with this venture.

"Winning a 2006 Travel Project Assistance Grant from the British Columbia Council of Arts gave me a wonderful opportunity to document rural churches in B.C. and its neighboring province Alberta. Working with architecture was a departure from landscape for me. Covering 9,000 kms during 2005 and 2006 made me admire these humble churches representing local communities of Russian, Ukrainian, Greek, Romanian and Aboriginal settlements. My travels took me from the extreme south of Alberta to near the North West Territories, and gave me an appreciation for the many styles of churches and their often-strategic location in the surrounding landscapes. Entering these churches transported me to another world, they so contrasted with their humble exteriors.

"Many communities' lives are intertwined with their churches. Some churches have a photographic history in the communal halls. I was able to visit a few of these when parishioners were on the nearby grounds performing maintenance. Even at abandoned churches, the grounds were immaculate. Many of the caretakers gave me oral histories and related current preservation efforts underway to maintain the importance of their churches.

"I was fortunate to have seen the excellent book In Plain View by Orest Semchishen, published by the Canadian Museum of Contemporary Photography. The book's images stayed with me a long while; and on my annual journeys to the Prairies, I began to photograph other structures unrelated to those typical of the Badlands. In 2004, I made an appointment to meet Orest Semchishen in Edmonton. Orest's interest initially began while growing up near some of these churches and attending services. He was also able to visit many of them while working as a traveling radiologist. He was gracious in sharing his notes, giving me denominations of churches along with driving instructions to many of the most remote architectural jewels.

"Using Orest's notes and detailed range road (RR) and township (TWP) maps for the local regions, designed for the agricultural landholds, was the most helpful means of finding churches and cemeteries. I used some county maps, but found them lacking as they were out of date. Reading these maps accurately became a very necessary art, as one can quickly become lost. Sometimes, the road dead-ended and sometimes it was impassable due to heavy rain. The roads were all gravel and dirt, and the challenge of driving many hours each night and day to find my subjects became the most frustrating part of the project. Asking for instructions was usually impossible, as most farmers were in the far-away fields. Sometimes, I was lucky in seeing a dome shining in the sun or a hedge line of non-native trees alerting me to a nearby church.

"My goal was to track some of these churches, to document the changes to the exteriors revealing juxtapositions of other structures and landscapes crowded from technological changes. Some churches were relatively unchanged, some burnt down, and some moved due to lack of funds needed to care for them. I hope to continue to portray these structures as an important part of each community and to spark further restoration efforts by petitioning for Provincial Heritage Funds to preserve these churches for present and future generations."

For this project, Susan used a Phillips Explorer 8x10 camera with a Schneider 240 G- Claron lens, and Ilford HP5 developed in Pyro (Pyro-Cat). She prints in the sun on gold-toned Printing-Out-Paper (approximately 8x10) and on 8x10 Azo paper.